7 In-Stadium Activations Your Fans Will Love (2020)
In 2020, putting a game on a court, field or rink isn't enough anymore. Fans deserve a better, more engaging experience — one that is mobile and digital to suit their current habits.
However, elevating the fan experience through a buzzworthy in-stadium sponsorship activation isn't something you just snap your fingers and accomplish. It requires serious thought, effort and creativity.
To help you break down some of the best options out there, here is our evaluation of seven such in-stadium sponsorship activations at the cutting edge of innovation.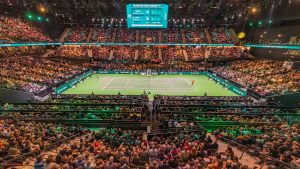 7. Digital Photo Booths & Interactive Fan Engagement Kiosks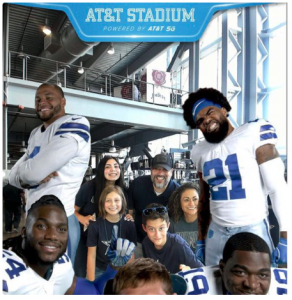 HOW IT WORKS: Today's digital photo booths come with a suite of advanced features. Customized backdrops and animated GIF functionality are perhaps the most popular. And, because your selfie is already in digital format, it can be posted, shared and linked across all of your social media accounts right away. Interactive fan engagement kiosks take this concept a step further. Strategically placed throughout the stadium, they deliver the best aspects of these next-generation photo booths, sometimes even displaying their snaps on LED screens in the concourse. The end goal is something we're no strangers to ourselves: to enable fans to create special memories, and to keep them long after the game.
EXAMPLE: When the Dallas Cowboys started their 2019 season, fans walking into AT&T Stadium discovered kiosks that allowed them to select five of their favourite Cowboy players, who then stepped into frame digitally for a group photo that looked remarkably real. Combining the physical and digital worlds to create a world-class fan experience, the activation itself was called "Pose with the Pros."1
OUR ANALYSIS: Digital photo booths and their offshoots transform self-portraits into elaborate displays for social media. They appeal to young demographics that favour these experiences the most, all while monetizing their data. No wonder they remain so popular! But, if there's a defensible weakness to them, it's the limited number of people who can participate. Given that everyone takes a few minutes inside a booth or kiosk, if fans are on-site for an average of, say, three hours, then you'll only get a few dozen of them able to actually use it.
6. LED Flooring
HOW IT WORKS: Like LED banners, LED flooring provides an ideal opportunity to display logos, monograms, photos and plenty more. But, unlike the former, the latter can draw fans' attention to the exact point in the arena that the sponsor wants them to see, whether placed on a removal stage or in a breezeway. In other words, it's a real attention-grabber. LED flooring is also easy to install and remove before and after events. In addition, LED tiles can be lit individually or used to create an entire stage.
EXAMPLE: During the 2019 NBA All-Star Weekend, Mountain Dew premiered Courtside Studios — an interactive fan experience that served up hoops, music and style. The highlight was an interactive basketball court, which was made entirely out of LED. A full back wall provided a high resolution canvas for content and continued down along the floor. Once fans stepped up to the regulation hoop, a moving ring would light up on the floor to tell them where to take the shot. The court was later transformed into a stage for a live Migos performance.2

OUR ANALYSIS: The upsides are pretty clear. It's a way to capture the complete attention of the crowd for a short period of time. It's an opportunity to ideate on captivating visual animations that are fully customizable for the sponsor. And, as mentioned above, it's more eye-catching for the fans. The biggest downside? You can only use it for a short period, then it's over.
5. Beacon Technology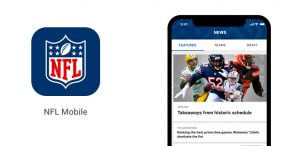 HOW IT WORKS: Marketers view beacon technology as a way to drive responsive mobile experiences that thrill fans in sports stadiums and secure their loyalty. And, why not? The Bluetooth-powered form of proximity marketing has the capacity to deliver geolocated, personalized deals and messaging. As a result, it's eclipsing geofence-based push companies. Besides providing fans location-based assistance and overall process simplification, beacons can benefit sponsors through the delivery of contextual and real-time information. (We cover the 'contextual' part in a minute.) There's also its vast potential for value-added engagement.

EXAMPLE: The NFL leveraged beacons at MetLife Stadium and Times Square for Super Bowl XLVIII to deliver hyper-personalized messaging and advertising via the NFL Mobile app. Specifically, the alerts sent by these beacons contained messages directing iPhone owners to merchandise, NFL exhibits and shorter concessions lines. At the time, it marked the boldest test yet for the technology.³

OUR ANALYSIS: Beacons can be an asset if venues and/or teams don't have their own apps to create push notifications. But, it's a little more limited in its potential if fans aren't on the WiFi or if they don't have their Bluetooth switched on. Fans could also find it intrusive. Incidentally, in 2018, Global Market Insights predicted that the beacon technology market was set to surpass $25 billion by 2024.4 So, it's safe to say the technology has a lot of upside and is expected to contribute to the continued evolution of in-stadium activations in the coming years.
4. Contextual Content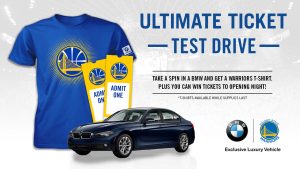 HOW IT WORKS: Contextual content lets sponsors push the right content to the right person, in the right place, at the right time. Credit a pre-configured algorithm developed using a number of variables. Though mostly applied to offers and practical pieces of information, contextual content can also go beyond both. On a larger scale, as fans enter the stadium, contextual content might allow them to receive a notification on their phone to watch video highlights of the coach's locker room pep talk. Or, on a critical play, everyone's phone might vibrate with a special notification encouraging them to make noise to distract the opposing team.

EXAMPLE: To enhance the game day experience at Oracle Arena — where they played from 1971 to 2019 — the Golden State Warriors started delivering contextually-relevant content to their fans in 2017. When fans entered the premises, they received a welcome message with unique content for that game, be it a special discount for merchandise or content that is specific to the game. They also received a message when they got to the top of certain escalators, offering them the ability to upgrade their seats. If they clicked through on the notification, they were then directed to the feature in the app that let them make the upgrade.5 Incidentally, some of the Warriors' content was either branded by the likes of BMW, or sponsored by the likes of audio electronics company JBL.6

OUR ANALYSIS: Indeed, it's crucial to address fans in the moment, with relevant information pertaining to the event. That being said, it could be seen as content overkill in some instances. It's a fine line. The key is to not overuse the technology right out of the gate and hit fans with a barrage of alerts.
3. Projection Mapping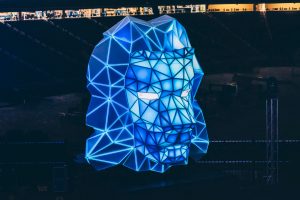 HOW IT WORKS: The simplest way to describe projection mapping? That it displays videos onto nearby objects, with the objective of keeping fans entertained during live games whenever commercial breaks occur — all from the comfort of their seats. Sponsors can further employ it to add effects during half-time shows, thereby keeping fans locked in on what's happening on the court or on the field or on the ice. Yes, even when they're racing to the nearest vendor for a snack. To benefit from a marketing standpoint, venues can easily display the biggest sponsors and create interactive graphics that are displayed right on fans in the stands. Or, throughout the venue.

EXAMPLE: In 2017, the Detroit Lions debuted a new jersey. Unveiled in the concourse of Ford Field, the sheer size of the stage allowed for a 360-degree experiential canvas to be created for fans to participate in. Multiple projection surfaces and a projection-mapped lion's head brought the space to life. Specifically, the polygonal construct was projection mapped with team colours, as well as animated and timed to other content pieces to give it some character.7

OUR ANALYSIS: It's cool. It's very cool, in fact. And, instead of printing decals to go on the floor, it creates another opportunity for a new sponsorship asset. A leaner one, too. Unfortunately, it's also temporary. It can only be used during certain times before the event, during breaks or afterwards.
2. Augmented Reality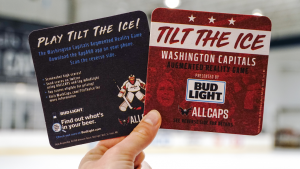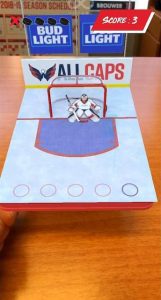 HOW IT WORKS: Augmented reality (AR) can use a smartphone's camera to help guide fans through a venue's physical environment, while enhancing their understanding and experience of the space. Moreover, new or distracted fans could use AR as an intelligent lens that displays information about what is happening on the field at any moment. From the perspective of marketing, AR is being further used by organizations looking to build greater connections with fans through collaborations with players and the introduction of gaming.

EXAMPLE: More of a near-stadium activation than an in-stadium one, last year, the Washington Capitals unveiled a new "Tilt the Ice" game. It prompted fans to download an app to scan barcodes on coasters in-and-around pubs located within close range of Capital One Arena to play. Incidentally, the Capitals unveiled another AR experience a few months later with Ovi O's, a new cereal featuring Alex Ovechkin and sold by a regional grocery chain. The team used Snapchat's Lens Studio to host the game. In a similar concept to "Tilt the Ice," fans scanned barcodes on cereal boxes to unlock a mini hockey game where users could shoot Ovi O's at targets with Ovechkin.8

OUR ANALYSIS: Besides being highly brandable, AR provides a deeper level of fan engagement. Getting into it puts an onus on you to deliver on the quality front, though. Frankly, the quality needs to be exceptional, otherwise it can look tacky and low-end.
1. BriziCam: The Audience-Controlled Camera Platform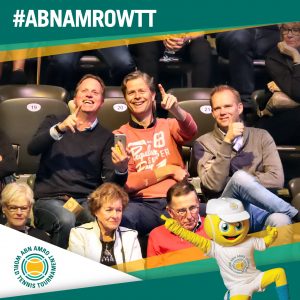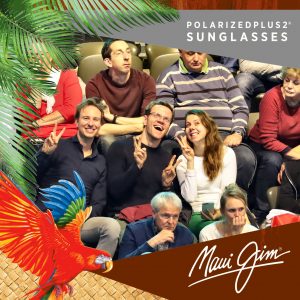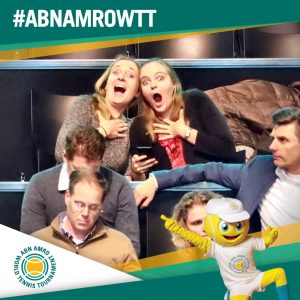 HOW IT WORKS: By letting fans take direct control of venue cameras to capture creative photos or looping videos of themselves and their group, the BriziCam achieves two things. First off, it puts the feeling of being on the big screen in the palms of those fans' hands. Secondly, it creates micro-influencers in every seat. The latter is an especially measurable, unique and advantageous way to drive in and out of venue engagement for rights-holders, venues and sponsors. BriziCam further promotes the kind of visceral experience that empowers the fan to create an unlimited bank of unique branded content.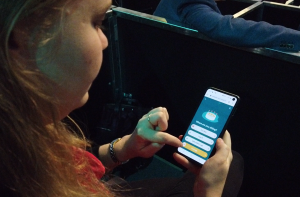 EXAMPLE: How about a few examples instead? BriziCam is used at Grand Slam tournaments. It's also used in the NHL and NBA. It's also used by European football and basketball leagues — and more. Most recently, BriziCam was used as a sponsorship activation asset at the Rotterdam Open in the Netherlands. Also known as the ABN AMRO World Tennis Tournament, the ATP 500 tournament is already renowned as one of the most production-forward events of its kind, but was looking to further cement its reputation as such. It was also searching for a new digital fan-engagement asset to be branded by their chief sponsor (the aforementioned ABN AMRO), but that didn't stop it from allocating to a few smaller ones (such as Peugeot and Maui Jim) to boost interactivity through a mobile photo-taking touchpoint.

OUR ANALYSIS: BriziCam doesn't take away from the action of the main event. It also gives fans a take-home souvenir — one which extends the event outside the limitations of attendance time. To boot, social-media sharing is built-in and trackable, while data capabilities through personal opt-in and image data-mining provides data of users beyond those who purchased the tickets. At the end of the day, your fans are going to be taking photos anyway. You have everything to gain by not only ensuring those fans have an awesome experience, but by going the extra mile to enhance that overall experience.
Overview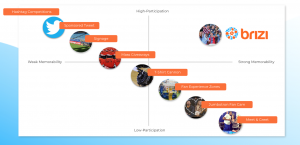 A high-level overview of activations that involve branded user-generated content.